Piece of the Past: Old Portage Viaduct from Letchworth State Park
Eight hundred pounds of history from the beloved Letchworth State Park now sit in front of the Wyoming County Historian's Office. 
The afternoon of Tuesday, July 31, saw a piece of the former Portage Viaduct delivered to the historian's office. The chunk is from an area at the foot of the iron and steel trestle bridge and dates all the way back to 1875. 
Situated next to the stairs of the historian's office, the piece is there thanks to the initiative of Wyoming County Historian Cindy Amrhein. She collaborated with State Sen. Patrick Gallivan's office and the Wyoming County Highway Department. 
Amrhein got the ball rolling early this year after reaching out to Mark Reiman, who serves as an aide to Gallivan. 
"First, I talked to Mark Reiman in the beginning of February and he talked to Senator Gallivan, and then in the beginning of June, I talked to Gene Wartzinski of Bergman Associates. They had the pieces, and he sent me photos of them sitting in the (salvage) yard.
"…He called me on the phone and said Senator Gallivan said that I wanted a piece of the bridge and that he would get it to me. So, he sent me the photos June 18."  
After conferring with the Wyoming County Building and Grounds Department, it was decided that it would first go to the Wyoming County Highway Department.
"The highway department, (County Highway Superintendent) Todd Gadd, said have them just deliver it to their department, because it would be easier that way … If they just delivered it there, and then we'd go from there to see when we would have it here." 
That was two weeks before Gallivan had a planned visit to Wyoming County, unbeknownst to Amrhein, who initially thought it'd be a good idea to have the piece delivered to the historian's office during the week of the Wyoming County Fair. That plan subsequently derailed. 
"I thought I would have it just brought here sometime during fair week, thinking the senator is always around during that time," she said. "But it turns out he was coming Aug. 1, so I emailed Todd and said, 'What are the odds of having it cleaned up in a week?' And they did it. They cleaned it up in a week and then got it here (Tuesday) the day before the senator was coming." 
To celebrate the bridge piece, Gallivan and the Wyoming County Chamber & Tourism office held a ribbon-cutting ceremony Wednesday, Aug. 1. Amrhein, Assistant County Historian Sally Smith, Warsaw town and village officials, and Chamber & Tourism staff members were all on hand. 
To clean up the piece and as a safety precaution, the highway department sandblasted it and took off any dangerous edges or rust. 
"It had to be done, in case it had any lead paint on it, we wanted that off. And there were sharp edges of molten metal where they had cut it apart, so that had to be all smoothed out."
Bergman also provided the historian's office with a box of rivets from the bridge.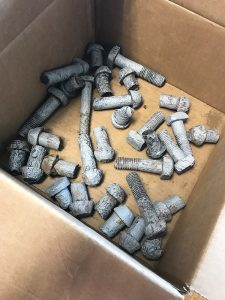 "They were just dumped to the side, so when it got here (to the highway department) and the guys were cleaning it up, they noticed the rivets," Amrhein said. "So, they took them all out, and they were severely corroded, which they would be. They cleaned up all the rivets for me too and sandblasted them all." 
Aiding in the process again, the highway department transported the piece to the grounds of the historian's office with a backhoe. The office announced its arrival on Facebook. 
"It's here! It's here!" the historian's office wrote on Facebook. "Our highway guys did a great job, and thank you Todd Gadd for coordinating sandblasting and delivery."
As for the significance of the 1875 piece, Amrhein said she wanted something with a date on it for reference. 
"Otherwise, as time goes by, if it doesn't have the date, it's going to look like a hunk of metal. Eventually, we'll get it on a pedestal and get a plaque for it. But, if it had the date, 1875, it's, 'Yeah, that's a piece of the bridge they took out at "Letchworth.' Rather than, 'What is that hunk of steel in the front yard? Let's get rid of it.' So, if it has a date on it, it helps."
The area received some rain the week of delivery, which put some rust back on the chunk. Amrhein said the historian's office might let it rust up a little more so that it looks more like it was in the photographs Wartzinski sent her. It will eventually be clear-coated for preservation. 
Amrhein said people have already stopped by excited to see the piece of history and take a photo with it. But for the historian's office, staff is "just really excited to be able to have gotten it," Amrhein said. Initially, pieces had been allocated to locations elsewhere and Amrhein was a bit miffed that none were offered to the county. 
"After it went to the salvage yard and started going everywhere, I thought were never gonna get a piece back," she said. "So, I really am so very appreciative of Senator Gallivan making sure that it happened."
To view the bridge piece, stop by the historian's office. The agency is located at 26 Linwood Ave. and open 9 a.m. to 3:30 p.m. Monday through Friday. 
The historian's office can also be found on Facebook at facebook.com/WyomingCountyHistoriansOffice.
By Natalie Muster, Editor Franklinville Mercury Gazette