Letchworth State Park Autism Trail "Opens Up New Worlds"
• Trail, a first-of-its-kind project, opens following Oct. 1 ribbon-cutting
• More than $3.3 million raised in private funding
• ANT includes eight different sensory experiences to appeal to those with autism spectrum disorder
• Late Susan Herrnstein remembered during ceremony at Humphrey Nature Center
Although she could not be present to celebrate the opening of The Autism Nature Trail, Susan Gouinlock Herrnstein's vision and passion for the project certainly lives on.
Herrnstein passed away unexpectedly Sept. 5, just 16 days before a ceremonial ribbon-cutting was held to mark the opening of The ANT on Friday, Oct. 1. Herrnstein was one of three women dubbed the "ANT Aunts" who conceived the idea for the trail and worked feverishly to see it come to fruition.
"Today we're opening a first-of-its-kind project in nature, The ANT here at Letchworth State Park," said Erik Kulleseid, commissioner of New York State Parks, Recreation and Historic Preservation. "Known as The ANT … it is the culmination of a vision that started seven years ago, when three insightful women saw what we needed and set out to forge partnerships to make it happen."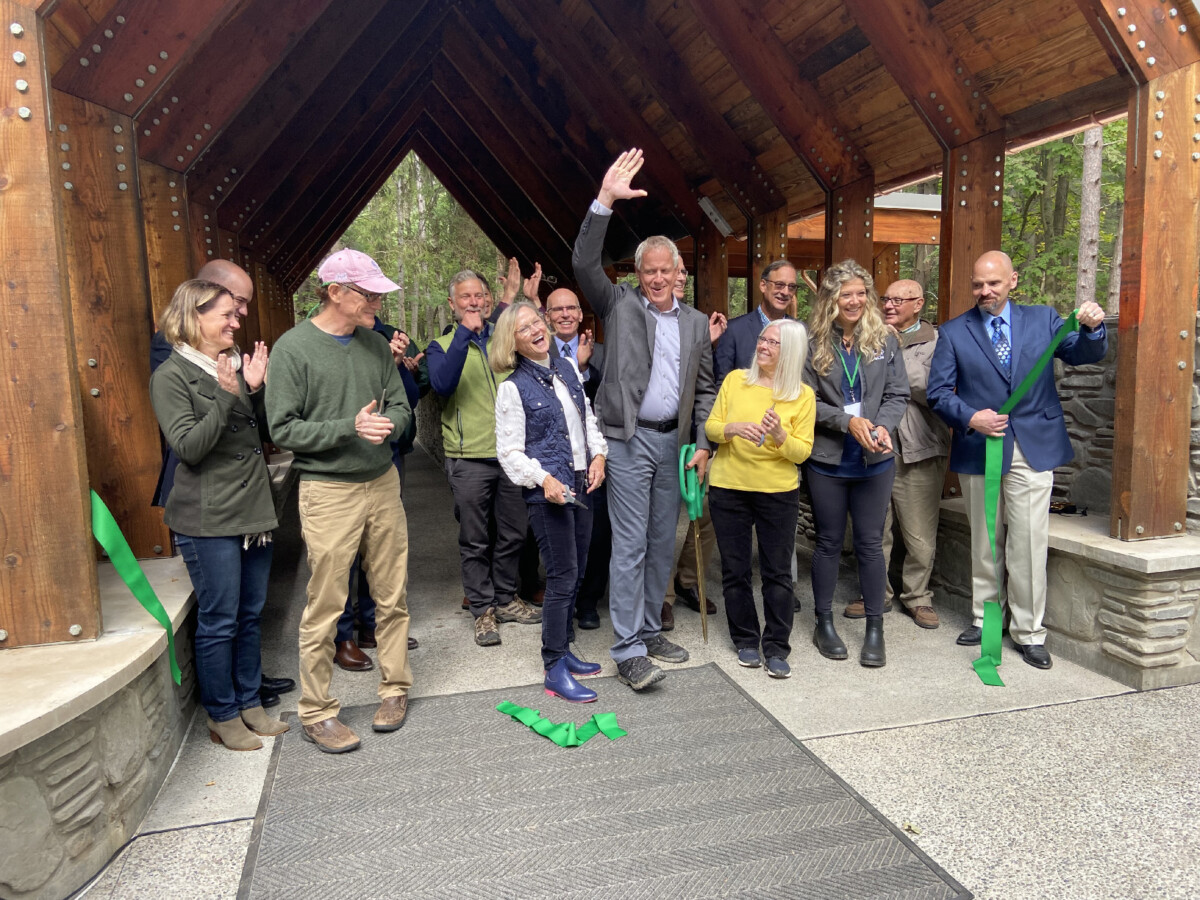 Along with Herrnstein, the ANT Aunts include Loren Penman and Gail Serventi. Kulleseid said the trail would never have become a reality if it wasn't for their drive and commitment that included building an advisory council, finding the correct expertise, harnessing the partners and working with the state to make the endeavor happen.
The Autism Nature Trail is a one-mile loop with a series of eight sensory stations. It begins and ends adjacent to the Humphrey Nature Center located inside the Castile entrance to the park.
"This trail here is a totally new thing for state parks, and it's specifically designed to meet the needs of people with autism spectrum disorder and their families," Kulleseid said. "This is meant to be a place where they can be here in a safe and judgement-free place … it's a place where people can come with their family members with autism and feel embraced, welcome and free to be in nature and welcome at Letchworth State Park."
Autism is not something that can be succinctly defined.
"It's a whole lot of circumstances," Kulleseid said — hence, the eight different stations.
"We have eight different experiences to make sure it can be appealing," he said. "It's a place where families can be comfortable, understood and they're not alone, and it's just tremendous."
Kulleseid also explained that The ANT represents two of his highest priorities.
"One is inclusivity," he said. "We need to make sure that our parks are places where everyone can see themselves, where you come and you feel welcome and you want to be here. Our staff should reflect that and our facilities should reflect that, and this is a huge statement in terms of who we are as a park system and agency of this state. It is also a partnership project. And this is one of the most elaborate and robust partnerships I've ever seen."
A total of $3.3 million in private funding was raised for the trail. This came from 650 separate donations among more than 430 donors that included 50 corporations, 15 foundations and 25 community groups.
Looking back at seven years ago, what Kulleseid said is a "total visionary trail" did have some naysayers. However, it was backed by many.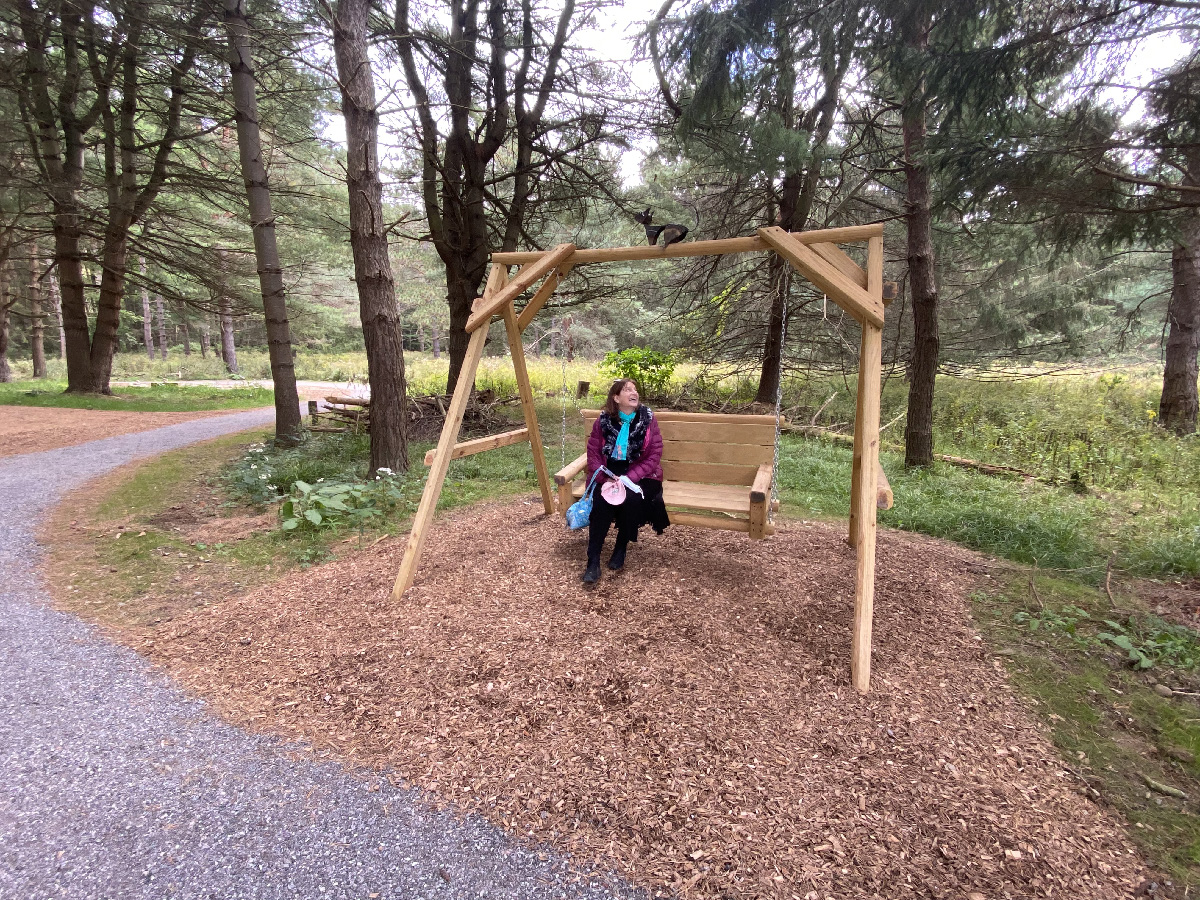 "Some people called it a pipe dream, others called it a fantasy, but from the beginning many others cheered us on," Penman said. "Raising over $3 million without municipal, federal or state funding is a testament to the need filled by this trail."
The trail is a big win for many, Penman said.
"We discovered together that when you create opportunities for an underserved group of people, most often everybody wins," Penman said. "And we like to say that while others are retrofitting public places to make them accessible, we have created an accessible place and made it public."
Serventi spoke fondly of her ANT Aunts counterparts.
"While Susan Herrnstein is not physically here with us today, I know she is present in all of our hearts and minds," Serventi began.
She said that Herrnstein created one of her most treasured fundraising materials for the trail, the circles map.
"At the center is the phrase, 'Experience in deep nature for all,' and we got that from Temple Grandin. And emanating from the center are eight spokes about the impact and outreach that Susan pictured: autism awareness, exploration of abilities and deficits, improved health and wellbeing, training labs for colleges and universities, safe integration into communities, support for families, tourism and economic development, and a resource for schools. This was Susan's creation and it succinctly captured all that she, Loren and I envisioned that the ANT would be.
"The circles map is configured very much like the trail itself, hence a pattern has been formed: We have eight stations and Susan's circles map has eight spokes. We also have a pattern of three throughout the trail to represent the ant body. Ant societies are industrious, collaborative and communal, they help one another build their nests, and they are led by the queen ant."
Serventi credited Penman with being that "queen aunt." She said Penman was the "prime mover" of the trail.
"Her drive, her persistence, her frequent 1 a.m., 2 a.m., 3 a.m. emails that we all received are a testament to her energy," Serventi said, also giving kudos to many others. "From the very beginning, we envisioned an outdoor environment where everyone felt welcomed, embraced and included, no matter the ability and no matter the age. We have collaborated with all of you here today in one way or another. Therefore, we want to thank all of you for helping us to achieve this reality."
One of Herrnstein's sons, Jimmy, was present for the ribbon-cutting. He talked about the importance of the project for his mother, saying she was happiest when she was fighting for what she believed in, especially The Autism Nature Trail.
"Anyone that has met my mom knows she was not the type to sit around and idleate. If she wasn't occupied and working on a project, she got cranky. And the trail kept her fully occupied for seven years and it was a great thing to see and experience on our end and we're very appreciative of that," he said. "And it was all for such a terrific cause, it was what kept her energized and vibrant and really kept her moving."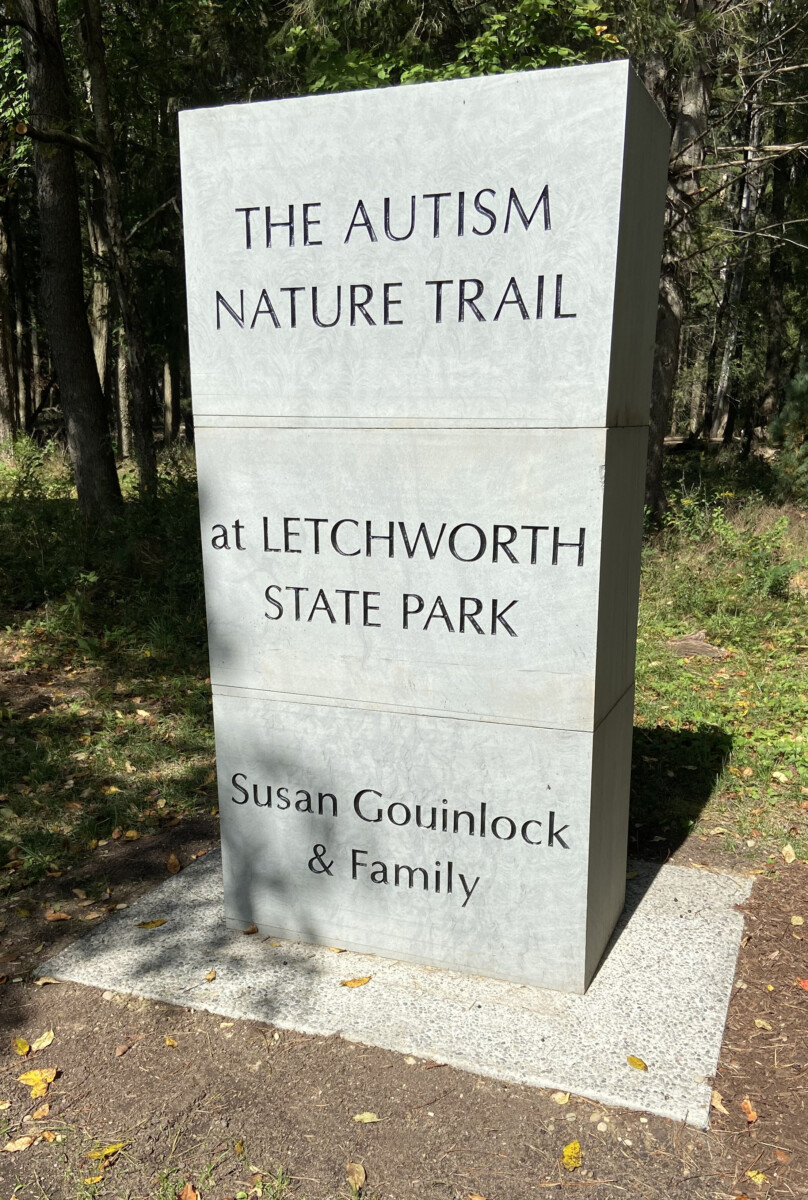 Jimmy noted that a concrete slab near the entrance of the trail bears "Susan Gouinlock & Family." He said this was huge for the Herrnstein family, but the name was not there in order for Susan to seek out fame or acknowledgement.
"She wanted people to know that this was an incredibly important thing for her and her family," Jimmy said.
Overall, The ANT costs a total of $3.7 million. Titan Construction Group built the trail. Some pieces had yet to be added as of the ribbon-cutting due to delays caused by the pandemic. However, Penman said programming would be offered the day following the ribbon-cutting and it wouldn't affect the trail experience in any major way.
Programming for The Autism Nature Trail is being provided by Camp Puzzle Piece, a Rochester-based non-profit. Jen Hackett is the president of Camp Puzzle Piece, which was created in order to show children and families the joy of exploring nature, she said said. The organization has worked with hundreds of families with members with autism and Hackett said Camp Puzzle Piece jumped at the opportunity to be a partner for the trail when asked to do so.
"Having the opportunity to join with families to provide skill building, instill healthy active lifestyles and offer supportive opportunities for families to participate in their communities is what we do," Hackett said.
She said that being in nature is calming and has countless benefits for everyone.
"Listening to the wind in the trees and feeling the ground beneath your feet, smelling the earth and exploring the texture in nature will open up new worlds for all those who enter this space … We thank you for allowing us to be a part of this Autism Nature Trail and we can't wait to see the benefits and how it will change lives as families of all abilities receive far more than they see."
For more on The ANT, see the trail's Facebook page or website. 
By Natalie Spink, Editor Warsaw Country Courier